Automated Inspection
Delivering consistent quality parts on time is essential to your business and your brand.
Our Automated Inspection solutions are designed to ensure customer parts meet customer defined tolerances, specifications, and performance expectations. By leveraging the dimensional and service features quality inspection expertise of Component Engineering with the automation partnerships and expertise of our sister company, Orka Automation, we help our customers create high performance manufacturing environments that increase efficiency, reduce risk, and deliver  quality finished parts, 100% of the time.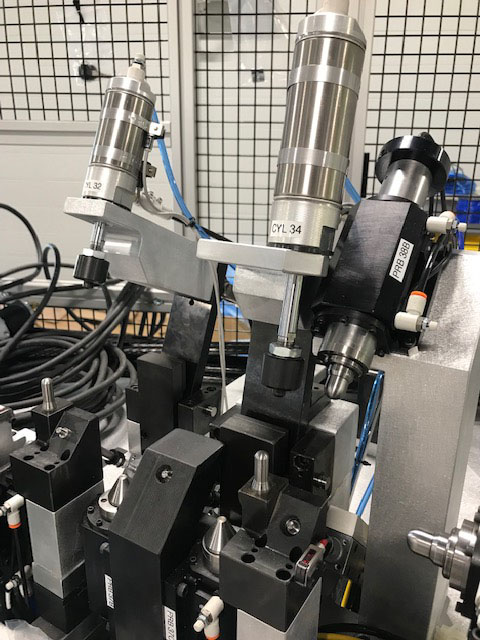 Automated Inspection work cells are custom designed to ensure customer parts meet defined tolerances, specifications, and performance expectations. And, where parts fail quality inspection, to identify parts, help with root-cause-analysis, and ultimately reduce errors and failures in our customers finished products.
In addition to our Automated Inspection platform, we offer three specialized Automated Inspection Platforms: 
– An Air Gage Platform designed for quality inspection of Die Cast parts.
– A Fuel Rail Platform, designed for quality inspection of Automotive and Commercial Vehicle fuel rails.
– A Roll Form Platform designed for quality inspection of Roll Formed parts.
Frame with enclosure
Fixture with pneumatic clamping
Industrial controls, including programming, wiring and integration
Safety features
Part master for recalibration
Replacement parts
Operation and Service manuals
Custom user interface
Operator training and support
TruPosition® probe tip customization
Vision inspection
Laser inspection
Robot integration
Remote programming and monitoring capability
Traceability integration
SPC trending
Multi-part testing stations
Weld fixture up-stream process check
As we rapidly expand our manufacturing in Michigan, we have looked for strong partners in the quality check industry. Component Engineering has stood out as a knowledgeable, customer-focused provider of quality solutions, and has demonstrated their commitment to our success by being a collaborative, flexible, timely, cost-conscious and technically savvy partner.
-Tesla Motors, Project Manager
Component Engineering and Herman Miller have a very good working relationship. They are good, creative and collaborative partners in gauge development, and have competitive prices and always meet or beat their timing.
-Herman Miller, Senior Engineer
We are closely partnered with Component Engineering. They have done a great job for us, and I would not hesitate to use them as they are innovative, practical, make quality gauges, and are easy to work with.
-Jireh Metal, Quality Manager